This came across my desk the other day and thought it might be of interest to some of you…
Scottsdale, Arizona (July 6th, 2016) – Given its timeless and unique "form follows function" styling, Porsche's evergreen 911 stands today as one of the finest expressions of automotive design. In short, its unique form is rightly considered to be true artwork that somehow manages to consistently defy time and space and remain relevant with each successive generation. In that vein, the Art Cars Project, a leading-edge collective or artists in cooperation with the Musée National des Beaux Arts du Québec (National Museum of Fine Arts of Quebec), traces its genesis to 2003 with a vision for the great Canadian artist Claude Le Sauteur to bring an old Italian coffee maker to life with inspiring artistry. While he was already occupied, the idea resurfaced when he received a formal proposition to elevate a green Porsche 911 into mobile artwork. After several months of reflection, Le Sauteur took on one of the finest projects of his career. The unique, painted artwork applied to each car was the culmination of a painstaking process involving proper preparation of the vehicle surfaces, integration of the artwork with the car's three-dimensional shape and its unique bodylines, and doing all that while ensuring the new finish is as durable and ready to withstand the test of time as the car itself that serves as the painter's canvas.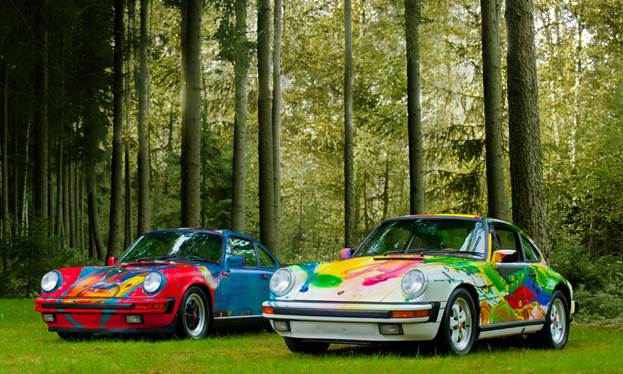 Art comes in all forms. The automobile is no exception. I found this auto imagery so cool, even after all these years… Enjoy!!