1957 Cadillac Eldorado Biarritz Convertible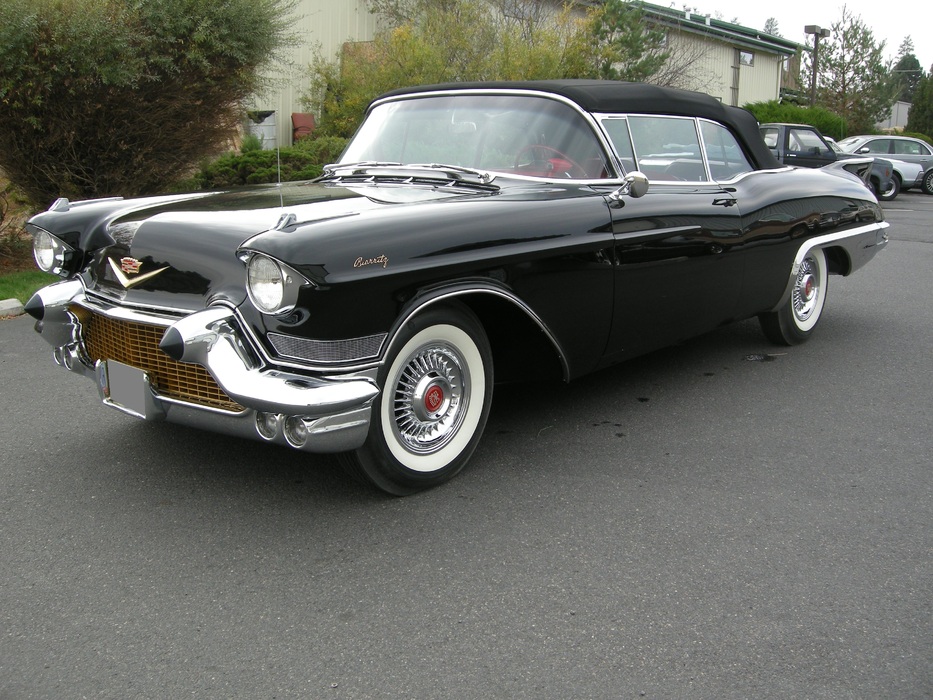 Consignment # 5103     #S715   Saturday 6:18PM-6:38PM
Vehicle to be offered for Auction sale January 27th – 31st, 2016 at Russo and Steele's 16th Annual Scottsdale Arizona Auction. Please contact us for more information.
Without a doubt the sculptured lines of the 57, 58 Cadillac Eldorado's are to me some of the finest shapes I've ever known. I was so enamored with them when I was in 8th grade still am… 
Yes, it is sculpture and it's a car. A very special one at that! This one is being auctioned this week at the Russo and Steele Auto Auction 2016 in Scottsdale, Arizona. I have lived here for 30 years, seems like I arrived yesterday…
There will be other fine automotive features as time allows. Many of them will be on the Cadillac…
Bill West
Long and rightly advertised as the "Standard of the World," GM's Cadillac Division finally reached the summit of America's fine car market during 1947, when it convincingly outsold its old archrival Packard by nearly 11,000 units. Without doubt, Cadillac's postwar success was based on equal parts of advanced engineering, embodied by Cadillac's groundbreaking overhead-valve V-8 engine, and the renowned stylistic genius of famed GM design Chief Harley Earl. Debuting for 1948 and inspired by Earl's appreciation of the sleek and futuristic Lockheed P-38 Lightning fighter aircraft of WW II fame, Cadillac's signature tailfins debuted for 1948 and remained a design hallmark of GM's luxury division for over 15 years.
Best-known for its sleek, cutting-edge styling based on Cadillac's El Dorado Golden Anniversary concept car that wowed the crowds at GM's Motorama shows during 1952, the Series 62-based Eldorado Convertible reached series-production status in 1953. That year, the Eldorado quickly gained lasting fame for transporting U.S. President Dwight D. Eisenhower to his inauguration ceremonies. For 1956, the Seville two-door hardtop joined the Eldorado series, while the glamorous convertible was named the Biarritz, after the luxurious French seaside town on the Bay of Biscay. In 1957, the Brougham four-door hardtop appeared but then, as now, the Biarritz remained Cadillac's undisputed image leader.
With its softer lines and lower overall stance, the redesigned 1957 Eldorado remains a collector favorite today with its elegant proportions, downward-sloping rear deck, and restrained tailfins. A tuned 365 cubic-inch V-8 with a pair of four-barrel carburetors delivered a stout 325-horsepower output, with GM's famed Hydra-Matic four-speed automatic transmission standard. Just 1,800 examples of the Eldorado Biarritz were manufactured for 1957, priced from a commanding $7,286 to match its sheer presence.
Beginning as a very straight and original example from the West Coast, this highly striking 1957 Cadillac Eldorado Biarritz is the product of a five-year, frame-off, nut-and-bolt restoration completed during 2014. Equipped with every available option including rare factory air conditioning, the Eldorado is finished in concours-quality black paint with exceptional body fit and gaps clearly in evidence. Original-specification Buffalo grain red leather, show-quality restored chrome, mirror-polished stainless trim, and a full set of five restored and re-chromed Saber-Spoke wheels set it further apart from other restorations. The original engine, transmission, and driveline were professionally rebuilt and balanced to match. Proof of this Eldorado's excellence was earned on the show field, with it winning awards at the two concours events it appeared at during 2014. 2014 Forest Grove Concorso, Portland, OR. 1st Place Best in Class. 1950's-1960's GM, 2014 Pacific Northwest Concorso, Tacoma, WA. 2nd Place – Tailfin Class.
Reported to drive and ride like a new car with everything operating as new, this true crowd magnet has covered fewer than 200 miles since its restoration was completed. Marking the ultimate limited-production American luxury convertible of its era, this 1957 Eldorado Biarritz is simply superb throughout.